A waiter pulls forth a small trolley of ingredients next to the dining table –  a coddled egg, salt and pepper, roasted garlic, Dijon mustard, Worcestershire sauce, olive oil, lemon juice, and fresh anchovy paste.
Whisking together the ingredients that make up a Caesar dressing, the waiter meticulously prepares a classic Caesar salad for two, table-side.
It's a craft created and perfected here at the Bull & Bear at Waldorf Astoria Orlando.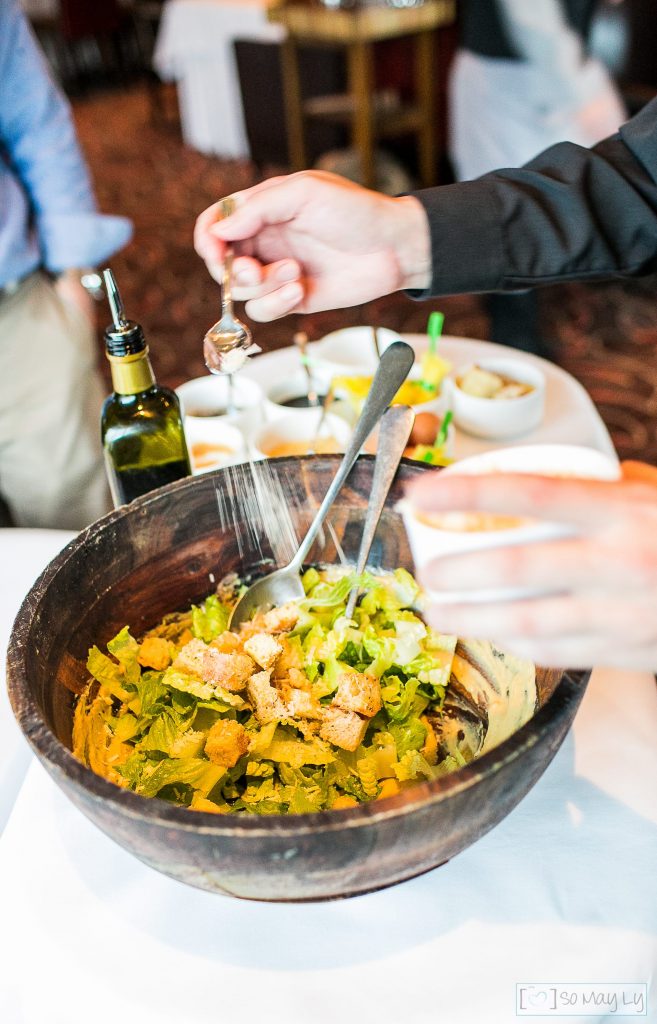 Tucked inside the Bonnet Creek resort area just outside of Disney Springs, Waldorf Astoria Orlando's food and beverage offerings may often be overlooked by locals in Orlando. It would be a tragic oversight to miss out on the wonderful things going on inside Waldorf Astoria Orlando, from brunch at Oscar's Brasserie to a sampling of sushi at Zeta Bar and Sushi Lounge.
But most of all, locals should not miss the flagship Bull & Bear Steakhouse, where specialties include 36-ounce 28-day dry-aged Tomahawk ribeye steak, pan-roasted Dover sole, and veal Oscar, an innovation of the original Bull & Bear at the Waldorf Astoria in Manhattan.
Whether on a "staycation" weekend in Orlando, or out for a special night to celebrate a birthday or anniversary, Bull & Bear is one of those restaurants that should be on any local Orlandoan's list of must dines. If Orlando had a list of Michelin rated restaurants, Bull & Bear would almost certainly be on that list when one considers the craft and care put into their food, the stunning visual presentation of their dishes, and the first-class service.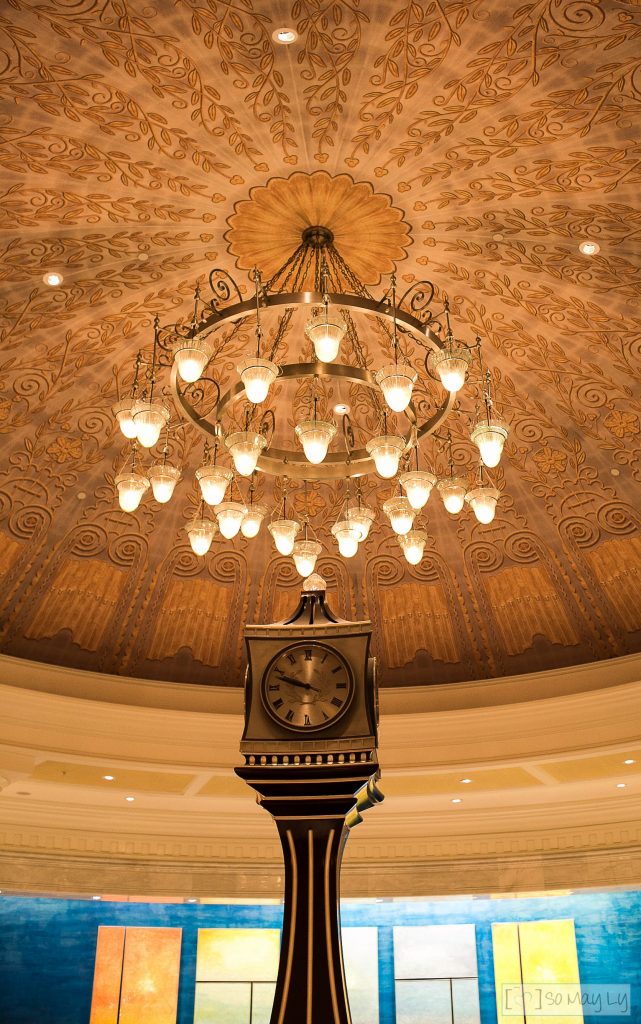 Before heading into Bull & Bear for dinner, meet your dining companions over at the Waldorf Astoria's Peacock Alley bar for a special glass of the signature Peacock Egg cocktail – a luminescent, icy blue "egg" drink consisting of lavender syrup, blue Curacao, fresh lemonade, and Bombay Sapphire.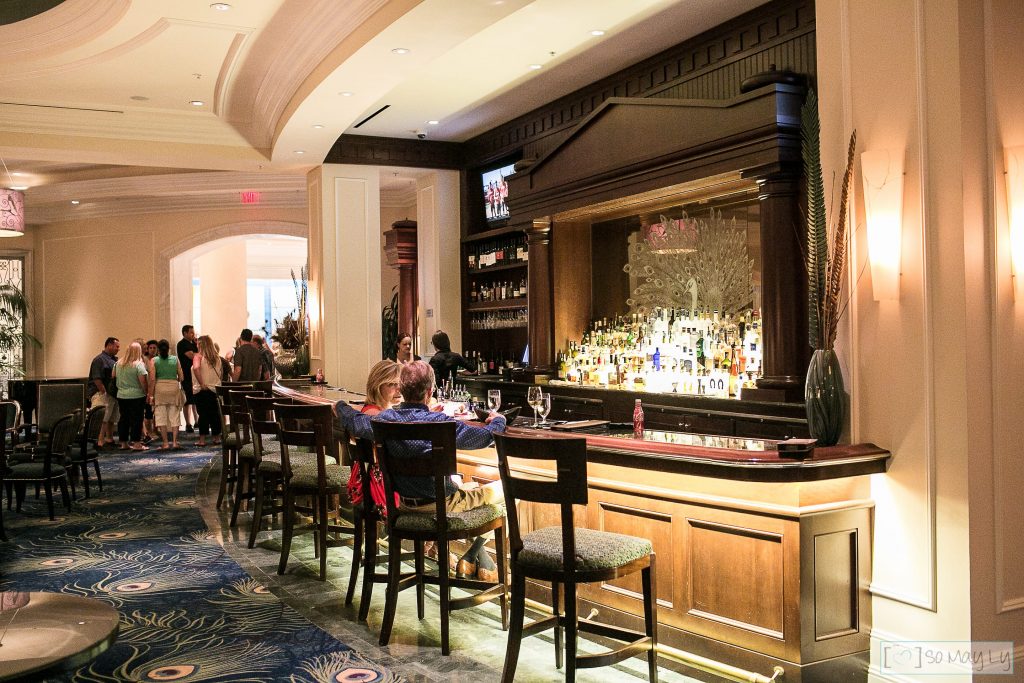 The restaurant may at first seem like a serious place for serious eating, with its intricate chandeliers and warm red and brown décor giving it a distinctly steakhouse club feel, but there is a sense of whimsical playfulness to the Bull and Bear's culinary offerings, with a team led by experienced Chef de Cuisine Nicholas Lebas.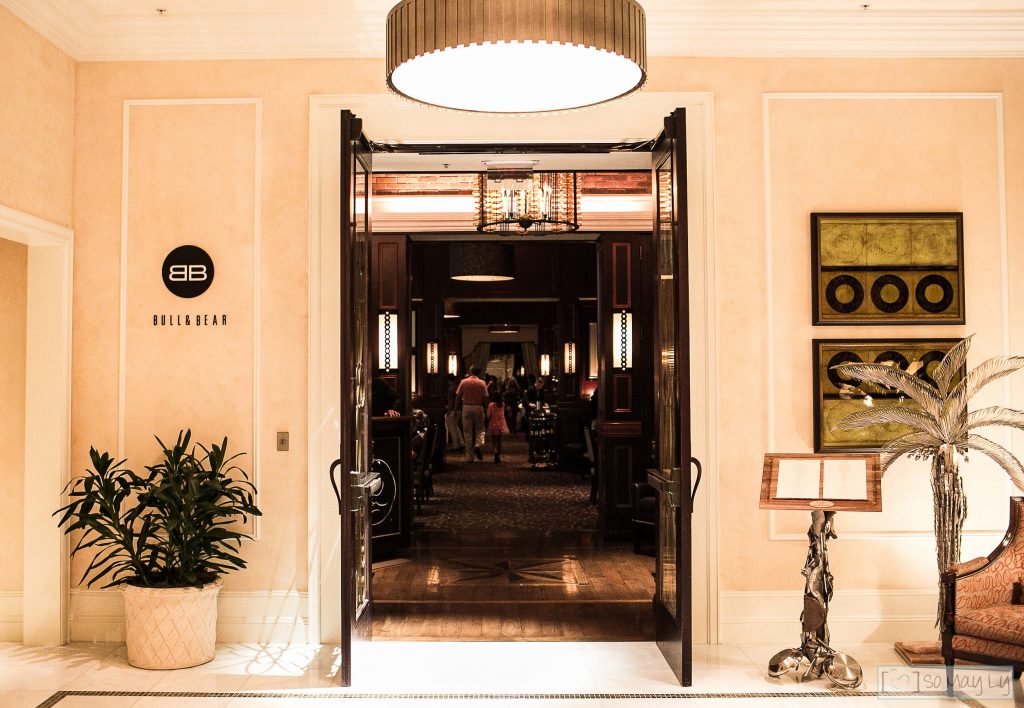 Start off with Bull and Bear's elevated play on the classic comfort food – grilled cheese and tomato soup. Here it's made as a smooth dish of creamy, local Florida Farms corn soup, poured over a miniature truffle and Brillat Savarin cheese sandwich.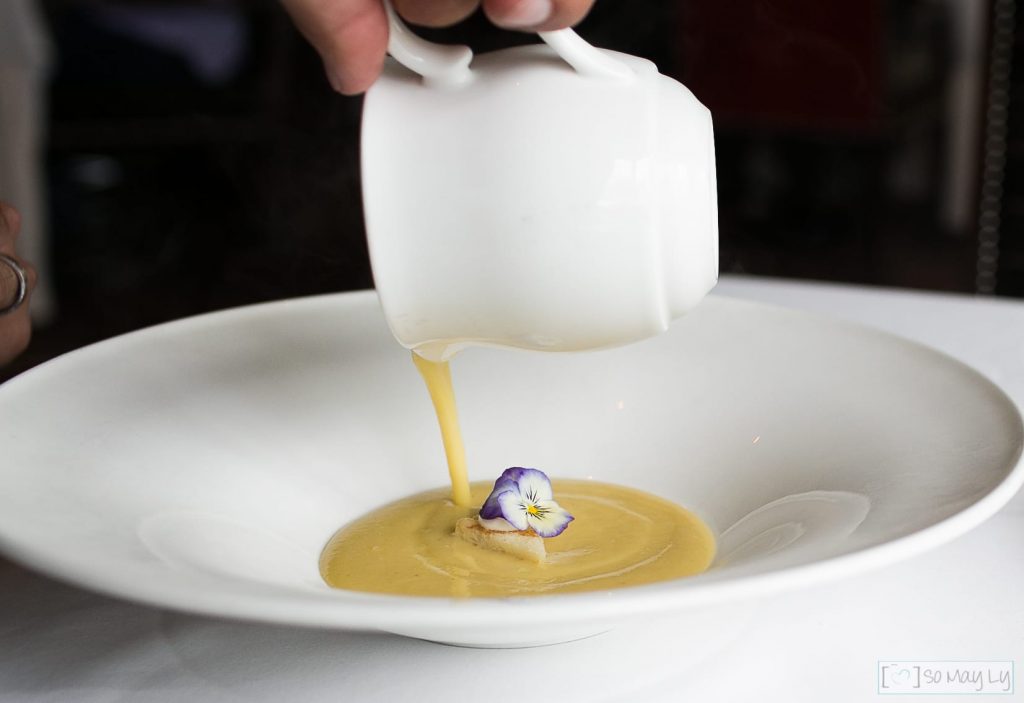 The Tuna appetizer is another great starter, served three ways at the Bull & Bear – smoked, confit, and tartare with a touch of Florida citrus and a sorbet of iced ocean salt to season the fish.  Or try the Escargot & Gnocchi, plump and flavorful snails fed with fresh basil, tossed in toasted black garlic and earthy Shimeji mushroom.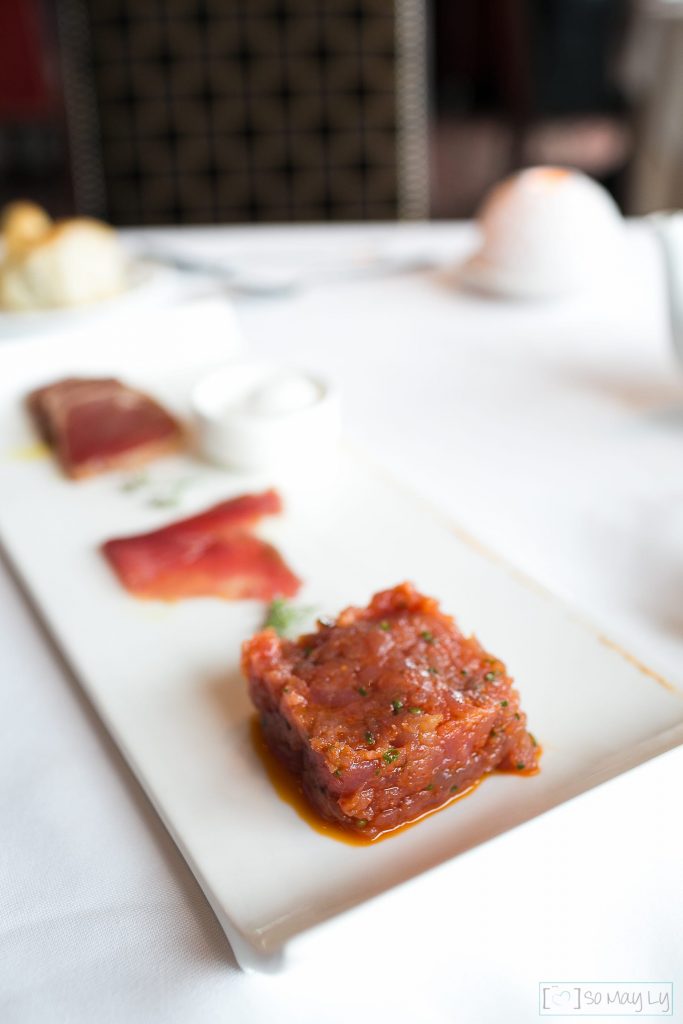 The transcendent Pasta Explosion dish is a must try at Bull & Bear, consisting of seemingly unassuming tiny house made ravioli slivers stuffed with fine pata negra de bellota ham and creamy Parmigiano Reggiano cheese.  The creamy, delicately smooth, pasta pillows are true love at first bite.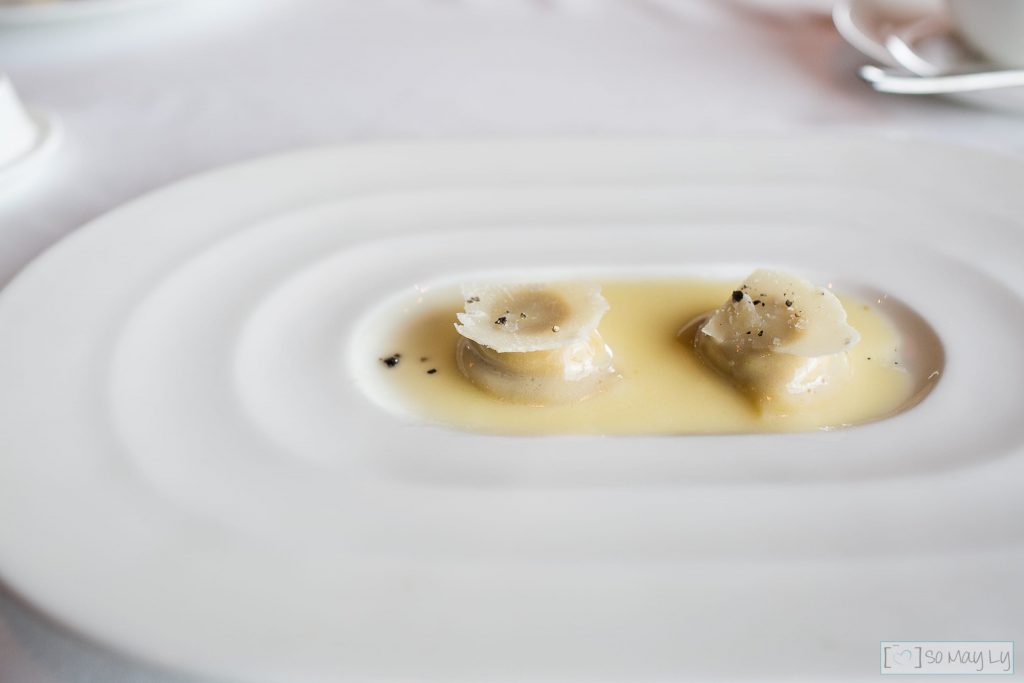 The chefs at Bull & Bear are always experimenting in the kitchen with a creative and innovative take on familiar dishes. Take the Bull & Bear "Fried Chicken" for example, cooked in a process that takes 3 days. First, the chicken is brined for 24 hours, resting for another 24 hours, then cooked sous vide for an hour and fifteen minutes at exactly 145 degrees, then flash fried with the skin on and finally fried again with a cornmeal, cornflake, buttermilk batter. The result is a fried chicken dish unlike any other, tender on the inside yet crunchy and flaky on the exterior, served with a Yukon gold mashed potato and gravy.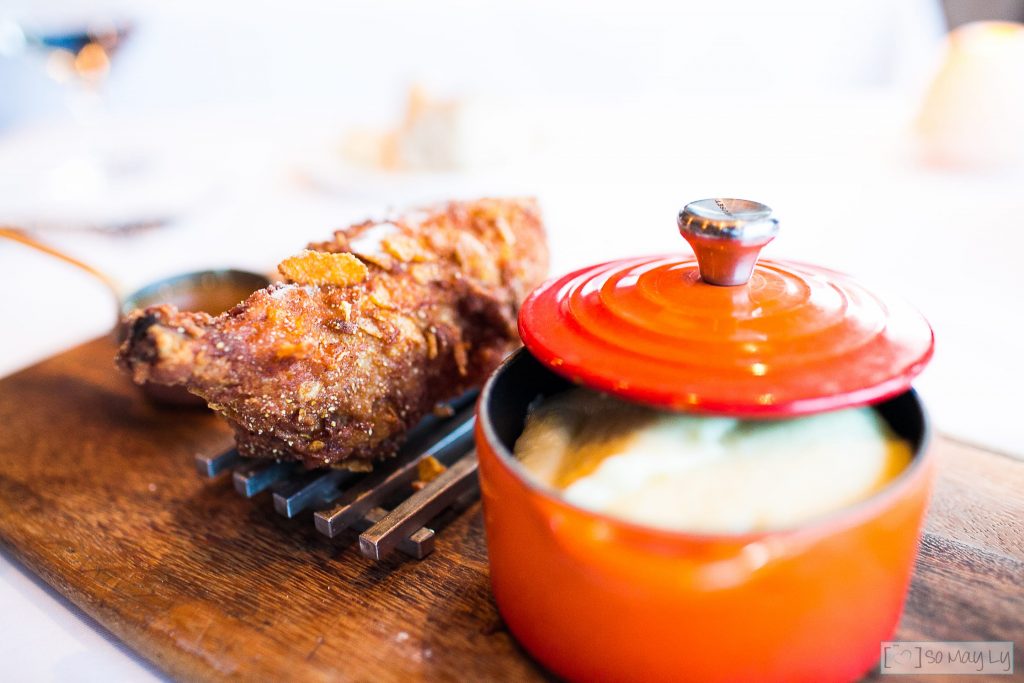 A recent chef brought a dish from his time in Dubai to the Bull & Bear and it remains one of the most popular dishes on the menu still – tender pan roasted Colorado lamb, served with ras el hanout tagine, Beluga lentils, and jamon serrano, featuring aromatic spices from North Africa.
Steak is the bread and butter at Bull & Bear, and here guests will find some of the finest cuts of steak in all of Central Florida from the 15 ounce, 28-day dry aged Allen Brothers Prime New York Sirloin steak, to the 38 ounce certified Black Angus Côte De Boeuf, to the signature 38 ounce, 32-day dry aged Allen Brothers Prime Tomahawk ribeye steak for two. The bone-in Tomahawk steak is a magnificent sight in itself to behold for any meat eater, presented tableside with a lighted candle made from beef tallow.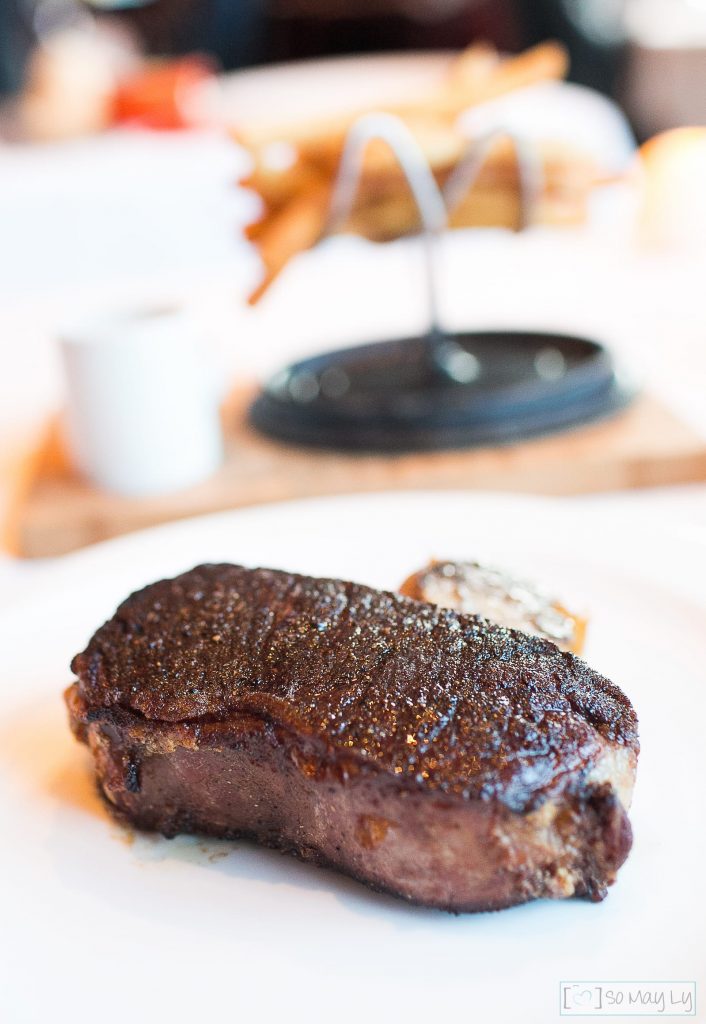 Accompany your main dishes with paired side dishes such as the seasonal wild mushroom mélange, creamed corn, lobster mac and cheese, or the house favorite Bull & Bear frittes, 100% hand cut Idaho potato fries, fried in beef tallow and served with a garlic aioli sauce.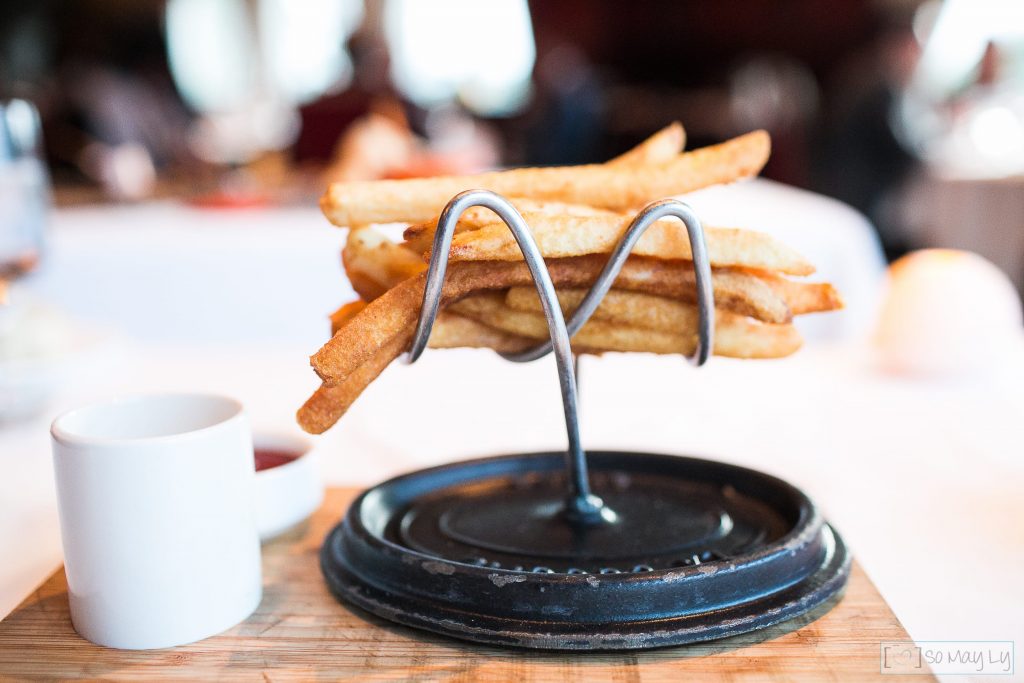 But don't forget to leave room for the specialty house made desserts, care of the award winning pastry team at the Waldorf Astoria Orlando. Though there are classics like the crème brûlée flambé and baked apple galette pastry, there are plenty of creative desserts found only here at the Bull & Bear. The creative Lemon is a classic dessert here. The chefs prepare it by taking a whole lemon and cook it in simple syrup, then they candy the lemon peel to make it edible, taking the fruit inside of the lemon to make lemon sorbet and lemon curd. Finally, mixed with Chantilly cream, the mixture is placed inside the lemon candied peel and served with a shortbread cookie. Also, try the Cigar dessert, a chocolate wafer cigar filled with chocolate ganache and a touch of dehydrated flavored meringue "ash," colored with squid ink.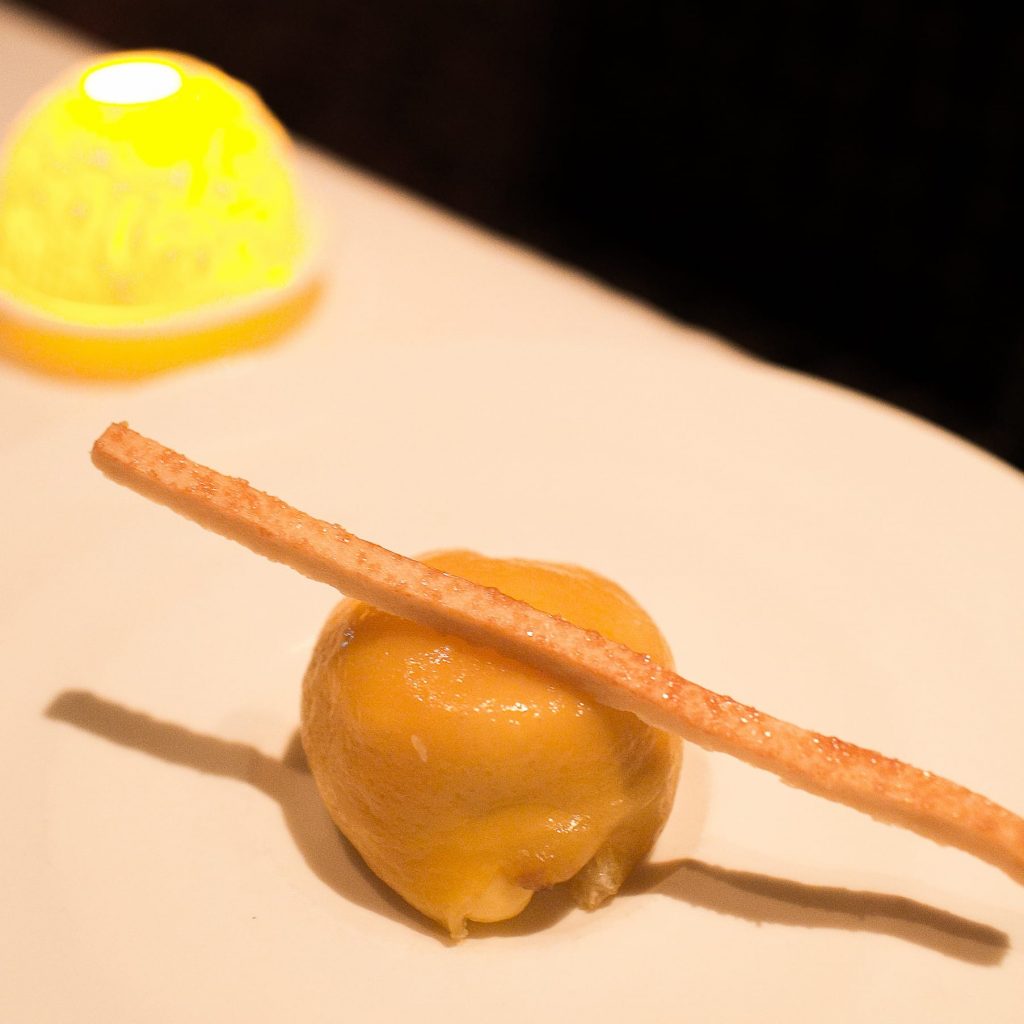 If you are lucky enough to grab a coveted window seat, you can end the night – a night of a fantastic culinary journey – by watching the nearby nightly Epcot® fireworks show just beyond the tree line at Waldorf Astoria Orlando's Bull & Bear.
---
Contributor: Ricky Ly

Ricky Ly, is a graduate of the University of Central Florida (UCF '08), currently working as a civil engineer in Orlando, FL. He is the author of the book, the Food Lovers' Guide to Orlando and the founder of the local award-wining Orlando food blog, TastyChomps.com.
His work has been featured on ABC's The Chew, WESH 2 Sunrise News, Orlando Sentinel, Orlando Weekly, New York Post, and many other media outlets including Asia Trend Magazine.
His passions include giving back to the community as well as traveling and eating around the world with his wife, May Wong, UCF '07.