It's no secret that going to Disney is on every child's bucket list. Seeing the splendor of the park, riding the most incredible rides, and experiencing the magic amidst one's favorite characters would be a dream come true for any kid!
Most parents will make the pilgrimage with their children to Orlando and they too will experience the magic of Disney! Staying at a hotel like the Waldorf Astoria Orlando – a hotel surrounded by the Walt Disney World Resort® – gives that added bit of luxury that's sure to please every parent and make them want to return time and time again. What better way to end a full day at Disney than by returning to the resort's state-of-the-art pools, award-winning spa and an 18-hole golf course?
But, with most of your time being spent at the various parks every parent finds themselves wondering what to wear? After all, you want to be casual and comfortable, but can you be trendy, too? Definitely! When you're putting together outfits for Disney vacation, whether it is an outfit for mom, dad, or for a little one, there are several things that should always be considered so that the entire family can be picture ready!
Disney World Wardrobe Staples:
 A hat – wearing a hat will give you extra protection from the sun and helps to keep you cool throughout the day.
Comfortable shoes – you will be doing a lot of walking, so look for shoes that have a good sole, are known for comfort, and try and break them in before your trip.
Breathable clothing – knowing that it will most likely be hot outside, wearing clothing that is light in color and/or made out of breathable fabric will aid in keeping you cool.
A hands-free, water-proof bag – having your hands free to tend to your kids, eat food, or hold your souvenir is essential, so opt for a trendy backpack or cross-body bag to hold all of your extra loot (sunscreen, wallet, phone, ponchos, etc.).
Once you've considered your wardrobe staples, look for clothing that falls within those parameters but still represents your personal style. You don't have to reach for your fanny pack from the 90s when a trendy Herschel backpack will get the job done!
Women
Stay on trend at Disney by opting for an airy romper and supportive sandals or lightweight joggers, a loose tank, and trendy sneakers.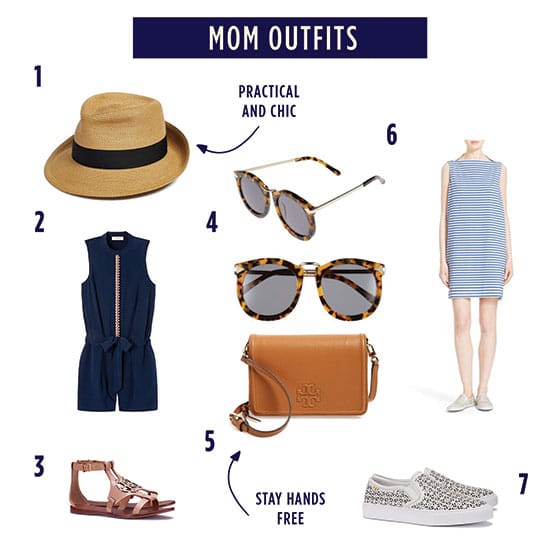 fedora 2. romper 3. sandals 4. sunglasses 5. crossbody bag 6. shirt dress 7. sneaker
Men
You can look trendy as well by opting for a lightweight pair of Tommy Bahama shorts, an oxford and a pair of boat shoes. Add a straw hat and trendy backpack and you are sure to stand out!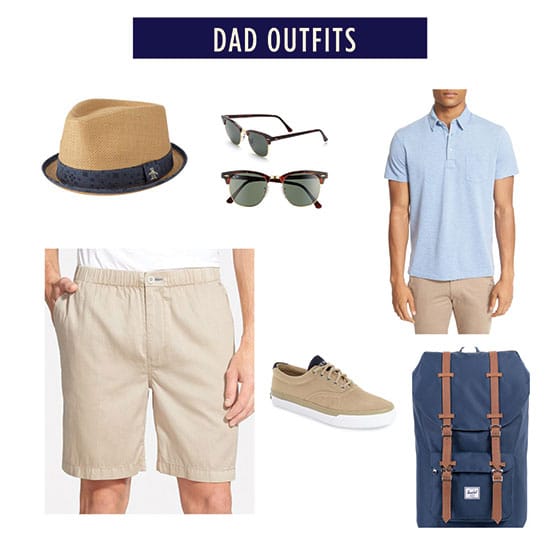 penguin fedora 2. shorts  3. sunglasses 4. shoes 5. ralph lauren polo 6. backpack
Girls
Picking clothes and shoes that are comfortable and easy to move around in is key. Add a neutral hat that can go with any outfit, any day and you're set!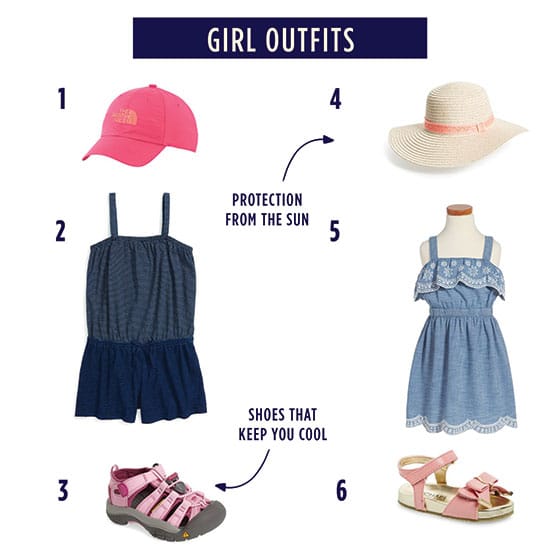 Boys
Just like the girls, pick shorts and shirts that are comfortable and shoes that are easy to move in!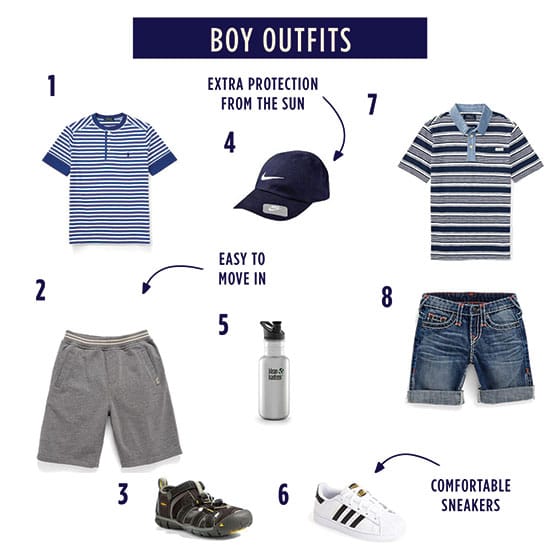 stripe henley tee 2. grey shorts 3. waterproof shoes 4. hat 5. water bottle 6. adidas show 7. stripe polo 8. jean shorts
Now that your Disney vacation wardrobe is planned, check out the Waldorf Astoria hotel in Orlando to take your vacation to the next level. The amenities are top notch, the food is fabulous, transportation to the parks is complimentary, and the booking process is easy. So, read some of the fabulous reviews and then book your stay here.
---
Contributor: Tori Johnson
Tori is an editorial stylist and fashion and beauty blogger at The sTORIbook, where she seamlessly intersects her impeccable style and edgy sophistication.
Tori was named San Antonio Fashion Blogger of the Year and has worked with a bevy brands including Neiman Marcus, H&M, Nordstrom, Lancome, Target, and many, many more. In 2015, Tori was also named one of Neiman Marcus' Women Who Rock.