Must Eat, Must Drink, Must Do at Epcot® International Food & Wine Festival
Fall in Orlando means it's time for the Epcot® International Food & Wine Festival! To the delight of foodies everywhere, the largest food festival in the world is now 75 days long and runs through November 12th. With over 40 global dine around marketplaces featuring more than 250 dishes, craft beers, wines, cocktails and non-alcoholic beverages to sample, and more than 400 culinary events to attend, it can be daunting deciding what to eat, drink and do!
I've tasted my way around Epcot® to bring you new and returning favorites you don't want to miss. Pack your comfy shoes and loose fitting clothes but leave your passport behind for this culinary trip around the world. The only passport you'll need is the festival passport which offers a convenient listing of all menus for you to check off as you go. You'll want to keep track of your foodie finds to cherish these memories forever.
"Must Eat"
You'll find plenty of meat-centric and seafood dishes as well as vegetarian and gluten-free options to satisfy every palate. Portion sizes vary but it's always best to share so you can sample more.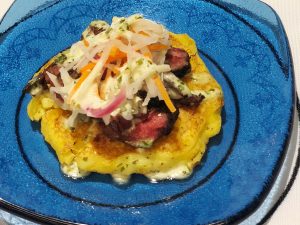 Brazil: This colorful marketplace's flavors explode like a carnival in your mouth. Crispy Pork Belly with black beans and warm cheese bread, Pao de Queijo, are back and as good as ever. New this year, traditional Brazilian seafood stew called Moqueca. A generous blend of scallops, shrimp, and white fish flavored with tomatoes and onions in a coconut lime sauce, served over rice, with just the right touch of spice to liven up your taste buds.  Pair with a refreshing frozen Caipirinha, Brazil's national cocktail!
Flavors From Fire: The intoxicating smells wafting from the wood smoker will draw you to this marketplace in the Future World. Introduced in 2017, it fires up your day with a menu highlighting the influences of smoke and spice. The Smoked Corned Beef over crisp potato chips topped with Blonde Ale Beer fondue is a returning favorite. Who doesn't love chips drenched in gooey melted cheese? Don't miss the new Charred Chimichurri Skirt Steak. Fork-tender beef served over a fluffy smoked corn cake topped with pickled vegetable slaw and creamy tangy cilantro aïoli. The contrast of flavors and textures is dynamic. Pair with local Orlando Brewery Smokin' Blackwater Porter.
Cheesecake lovers rejoice! Over 100,000 desserts will be served during the festival. You can bet many of those will be these decadent options. The tropical Passion Fruit Cheesecake with toasted macadamia nuts in the Hawaii marketplace is light and fruity. New this year, The Cheese Studio Maple Bourbon Boursin Cheesecake topped with Maple Bourbon Cream. The new flavor of Boursin cheese makes its triumphant debut as Epcot's chefs created an unbelievably rich and creamy dessert that evokes the velvety comforting flavors of Autumn.
"Must Drink"
Whether you're a beer lover, wine aficionado, bourbon and tequila fan, or simply looking for refreshing non-alcoholic options, you'll find something tasty to quench your thirst.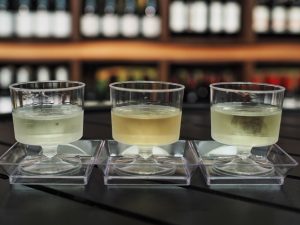 Bubbles! There's no better way to start your Food & Wine Festival experience than with a visit to the Festival Center's new Shimmering Sips Mimosa Bar. It opens at 9:00am and allows you opportunity to peruse the festival passport and plan your day, while sipping your choice of 5 fun sparklers. "Fromoza" a frozen mimosa with White Claw Natural Lime Hard Seltzer, "Madras" with Cranberry Sparkling Wine and Orange Juice and Tropical Mimosa with pomegranate, grapefruit and orange juices are fruity and delicious. Pair with an almond or chocolate croissant for the ultimate second breakfast.
Disney Family Wines: New at the Festival Center, sample the Disney Family Wines from vineyards with a special Disney connection.Then pick up a bottle of your favorite to take back to your hotel. Try Kurt Russell's GoGi Wines "Goldie" Chardonnay or "Birdie" Pinot Noir from Santa Rita Hills, California. The legendary actor has starred in more than 25 Disney movies and his wines are equally a class act. Pair your wine flight with charcuterie, cheeses or new Bloody Mary Seafood Cocktail. The seafood salad in tangy Bloody Mary Vinaigrette paired beautifully with a white wine flight of Fess Parker Riesling, MacMurray Estate Pinot Gris and Silverado Vineyards Sauvignon Blanc.
Guinness Baileys Milkshake: This frothy dessert in a glass has everyone rushing to the Ireland marketplace near the United Kingdom pavilion. A boozy milkshake blending Guinness Stout, Baileys Irish Cream, chocolate syrup and ice cream is a dreamy treat hailed by many festival goers as the best new menu item of 2018. You even get to keep the cute souvenir cup.
"Most Decadent Treats"
Eating and drinking around the world at Epcot® International Food & Wine Festival is all about indulgence. No one is counting calories so go ahead and order one or all of these decadent desserts. Guaranteed you'll find the magic of Disney buried under layers of delicate pastry, caramel and rich chocolate ganache.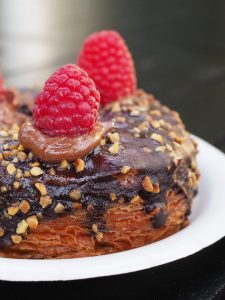 Croissant Doughnuts: The hybrid croissant doughnut pastry may have been invented in New York City but the Epcot chefs have added their own indulgent spin. At the new Taste Track marketplace located in Future World, near Test Track, you'll find these warm flaky and fried treats topped with cinnamon sugar, chocolate and marshmallows or the most popular version topped with chocolate, hazelnut cream, crushed hazelnuts and raspberries. Take indulgence to the next level with an added scoop of creamy gelato.
The Chocolate Studio: The most decadent stop of the festival is The Chocolate Studio marketplace in the Culinary Corridor. Every menu item is a must eat! Imagine a giant creamy chocolate almond truffle frozen before your very eyes with liquid nitrogen. Then topped with warm whiskey caramel and almond dust. It's a show-stopper returning favorite drawing "oohs" and "aahs" since 2015. The Dark Chocolate Raspberry Torte paired with Banfi's festive sparkler Rosa Regale is love at first bite. The torte filled with rich chocolate ganache and sweet raspberry sauce is only made better with every sip of the bright raspberry colored sparkling wine from Piedmont, Italy. The aromas of berries and rose petals make every sip of the crisp wine sublime. Take a moment, let your taste buds rejoice. This is a perfect spot to enjoy stunning Central Florida sunsets sitting on the manicured grass in the quaint courtyard with twinkling string lights overhead.
All American Carrot Cake: When looking for a non-chocolate indulgence, stop at Hops & Barley marketplace in The American Adventure pavilion for fresh baked carrot cake. The scents and flavors of cinnamon and nutmeg of this moist cake topped with a blanket of warm cream cheese icing bring pure comfort and joy. Pair with Big Top Brewing Company Hawaiian Lion Coconut Coffee Porter from Sarasota, Florida found at the Block & Hans kiosk next door. This creamy, well-balanced porter with wonderful aromas of coconut and coffee adds to the familiar yet elevated experience.
"Must Do" Events
The Festival goes beyond the expected bites and sips around Epcot's World Showcase. Opportunities to learn and enjoy elevated experiences abound. 197 world class Disney and guest chefs from 8 countries and 20+ States will showcase their culinary talents at nearly 400 events throughout the festival. From the swanky 'Party for the Senses' to a variety of educational seminars and demos where you'll learn about food & wine pairings, cheeses, coffee, chocolate and a variety of beverages. Special dinners and events at nearby hotels within the Walt Disney World Resort also enhance the fun surrounding the festival.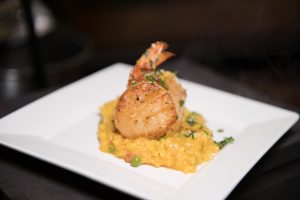 Sunday Brunch with The Chef: Sparkling wine, a gorgeous spread of flavorful dishes to satisfy every brunch aficionado and hobnobbing with a celebrity chef makes for magical Sunday mornings at this new event series held in the World ShowPlace Events Pavilion. Guest chefs and TV personalities such as Iron Chef Masaharu Morimoto, Cake Boss Buddy Valastro, local Floridian and former Oprah personal chef Art Smith, Top Chef and The Chew alum Carla Hall and Food Network judge extraordinaire Alex Guarnaschelli will share their tips and tricks. Reservations are required. Call (407) 939-3378. More information on EpcotFoodFestival.com
French Family Meal Traditions: The talented chefs at Monsieur Paul, the fine dining restaurant in Epcot's France pavilion, share a five course afternoon feast celebrating cherished recipes learned in their family kitchens. Allow your taste buds to lead you on a culinary journey through France, from Lyon to Avignon. Dishes are created with traditional Le Creuset cast iron pots for a rustic yet elevated meal. The portions are generous, as if maman was serving the plates herself, but be sure to save room for the gorgeous desserts which often feature housemade ice cream from L'Artisan des Glaces. Each course is delightfully paired with wines from various regions. French Family Meal Traditions lunches are held select Fridays and Sundays during the festival and reservations are required. If you wonder about the restaurant's authenticity, owner / chef Jérôme Bocuse, son of legendary chef Paul Bocuse, oversees the superb culinary operation of all the restaurants in the France pavilion, including this elegant homage to his father who ran the restaurant before him. A nostalgic experience indeed. Call (407) 939-3378. More information on EpcotFoodFestival.com
Food & Wine Weekends at Bonnet Creek: Take your festival experience to the next level with an epicurean weekend at luxurious Waldorf Astoria Orlando and Hilton Orlando Bonnet Creek, located just a few miles from Epcot. Indulge for an evening or the entire weekend with a variety of culinary experiences to delight all your senses. Start with La Pâtisserie Master Pastry Class on Friday afternoon and learn the secrets of baking delicate pastries and decadent desserts. Kick off the evenings with "Sip Swirl & Savor" a complimentary world class wine tasting at La Luce or the inventive "Cocktail Creations" in Peacock Alley. The hands-on experience allows you to create your own cocktail with the guidance of a talented mixologist. Afterwards, feast on multi-course tasting menus at the resort's restaurants La Luce, Bull & Bear and Zeta Asia. You'll love La Luce's Risotto Duo di Mare, a flavorful saffron infused dish chock full of seafood reminiscent of Spanish paella. Famed Bull & Bear impresses with wagyu carpaccio, petite filet of beef and succulent stuffed lobster tail. Zeta Asia offers a more casual dining experience of Asian specialties, dumplings and signature sushi rolls. The star is the Korean Short Rib Bibimbap with a kicking gochujang sauce. Pair with your choice of sake, beer or Japanese Whiskey flight. End the evening with decadent desserts and champagne at Bar Du Chocolat. The variety of desserts on display, from truffles to macarons, is bound to make every chocolate lover's heart pitter patter. Don't miss their version of a giant Ferrero Rocher bonbon, S'mores and Caramel Macchiato torte. Whimsical gourmet popsicles hand-dipped in chocolate and coated with fun toppings at Myth Bar will make you feel like a kid again. Dinner reservations are recommended. Visit WaldorfAstoriaOrlando.com/food-wine for more details.
The opportunities to fulfill your epicurean dreams in Orlando this time of year are practically endless. Explore new flavors, evoke the nostalgia of old favorites, splurge on new culinary experiences, quench your thirst for culinary knowledge, awaken your inner foodie and spend quality time with loved ones all within the Epcot® International Food & Wine Festival. After you experience these favorite Must Eat, Must Drink and Must Do options, guaranteed you'll only be hungry for more. Lucky for you, there's 75 days to soak it all in.
---
Contributor: Christina Thomas
Christina is the editor and founder of Go Epicurista. A food & travel enthusiast, ice cream fanatic, chocoholic, and eternal optimist, Christina is on a mission to #MakeSomedayHappen one delicious bite, sip and trip at a time. Celebrating life with great food, wine and friends throughout Central Florida and everywhere she goes. Her goal is to inspire others to take time out of their busy schedule to do the same. GO celebrate life today, for someday may never come. Join Christina and GO Epicurista!