It's been quite a number of years since I've been in Orlando.  If memory serves, the last time I was there was when I was kid with a pair of Mickey Mouse ears that my parents had slipped onto my head.  Orlando has an obvious stereotype – the city of childhood amusement – but it's far more Millennial than people give it credit and thanks to Waldorf Astoria Orlando, I got to experience that in one of the most incredible ways possible.
Going back to Orlando as an "adult" was a bit different this time around.  I land at the airport, walk to the pick-up lane, and am greeted by a blacked-out extended length Audi with a driver that makes me feel as if I've known him for years.  I have a lot of memories of Orlando, but this one looks more like a scene out of New York City.  But that's what Waldorf Astoria is known for – delivering an experience that goes above your expectations and (in my case) what one deserves.
My Waldorf weekend was first class.  But it wasn't the phenomenal food, the artisan cocktails, luxurious accommodations, or being able to explore the undiscovered in Winter Park and Orlando.  It was the service that made my weekend memorable where every person I encountered went above and beyond what they needed to do.  Any hotel can provide good food and drink, but good service is hard to come by.  While the treatment was the best part of the weekend, there were a number of other notable experiences to share of my Waldorf experience.
Dinner at Zeta Bar at Hilton Orlando Bonnet Creek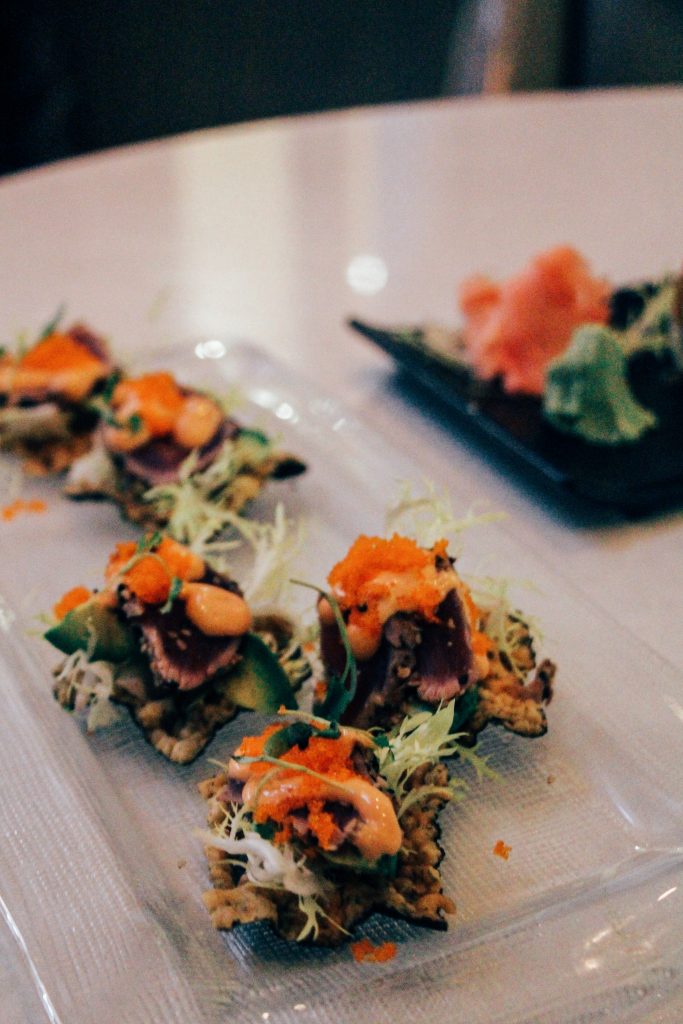 It just so happened that I was staying on property during Food & Wine Weekends that is a complement to the Epcot® Food & Wine Festival.
My dinner at Zeta focused on the art of sushi pairing that featured a four-course meal accompanied by three different sakes.  Sake has never been my liquor of choice nor one that I regularly partake in so it was interesting to be taught on the different levels of filtering and how/why each one was paired with the respective course.  It's easy for me to get stuck in a routine of ordering the same cocktails (a gin and tonic with two limes) so I enjoyed being pushed out of my comfort zone to experience something new.
My top favorite from the meal?  The Spicy Tuna Nachos featuring mayo with a bit of a kick, seared ahi tuna sashimi, and a sprinkling of fish roe.
Bar du Chocolat and Champagne Tasting at Peacock Alley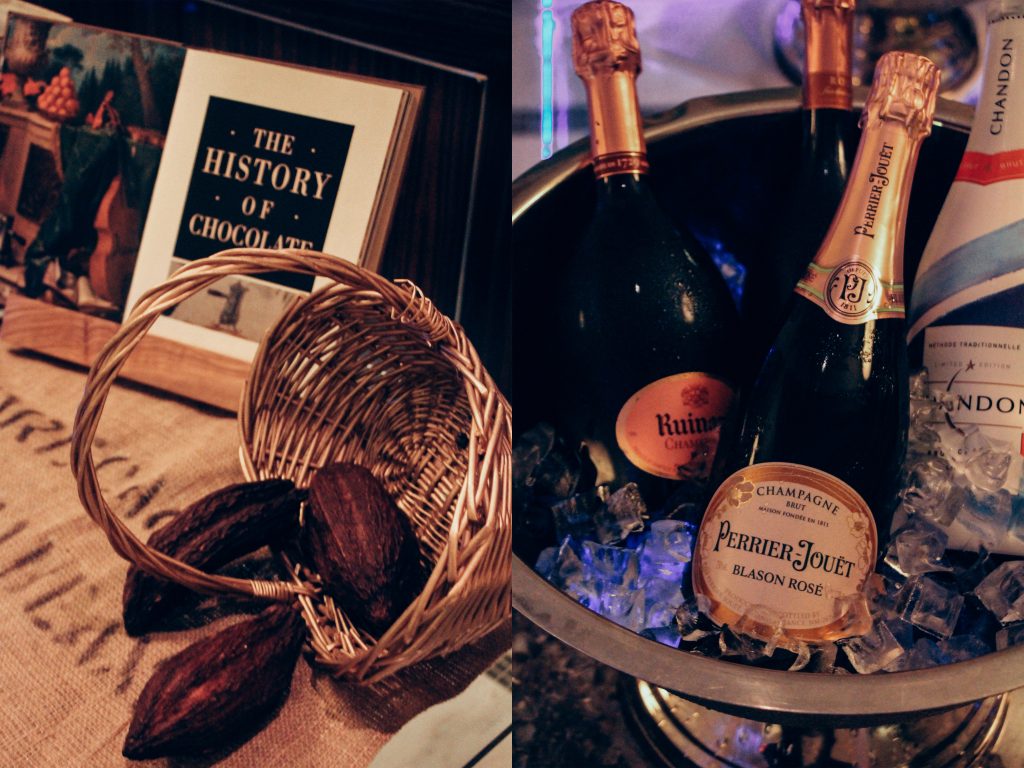 On Friday and Saturday evenings, Peacock Alley brings out just about every chocolate decadent you can imagine, and to think, all of which are made in-house by their pastry team.  The set-up is accompanied by bottles of bubbly and a pianist pumping out jazzy favorites.  The scene was comfortably plush and was a nice way to close out the day post exploration of Orlando.  Having just come from dinner at Zeta, I opted to enjoy from afar even though those chocolate truffles looked maddeningly delicious.
Golf at Waldorf Astoria Golf Club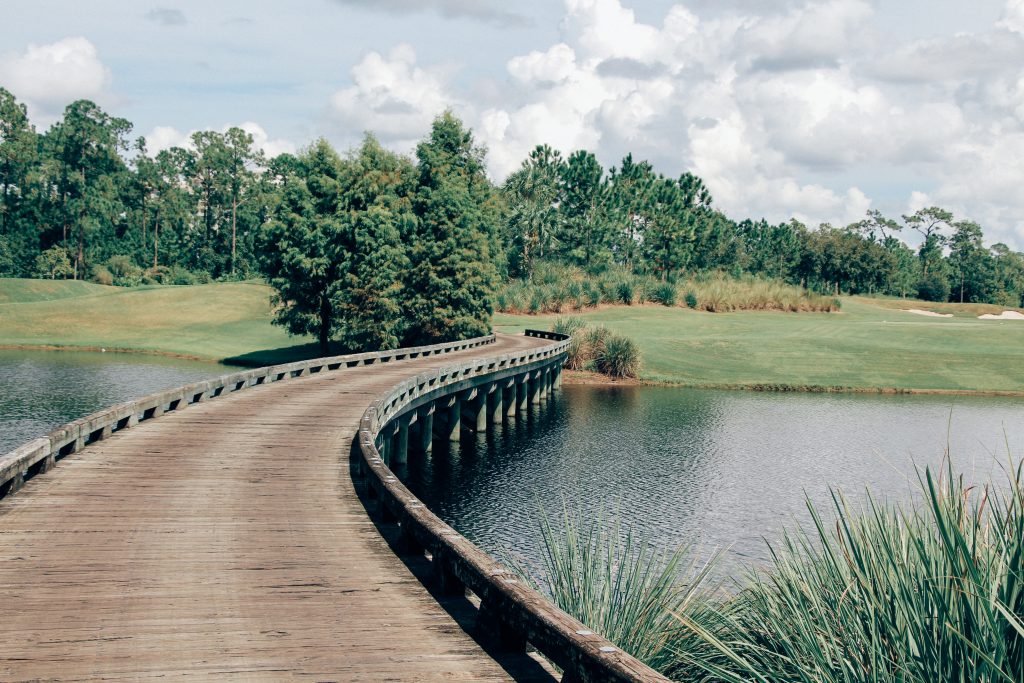 Admittedly, I'm not a golfer.  But my suite had a panoramic view of the course and so I went down to the concierge to see if I could snag a golf cart for a quick joy-ride (I mean peruse).  While we're on the topic, I don't think Cristal, the on-property concierge, possesses the word "no" in her vocabulary.  She helped me a few times with reservations and advice on things to do in Winter Park and was nothing but overwhelmingly helpful.
Cocktail Creations at Peacock Alley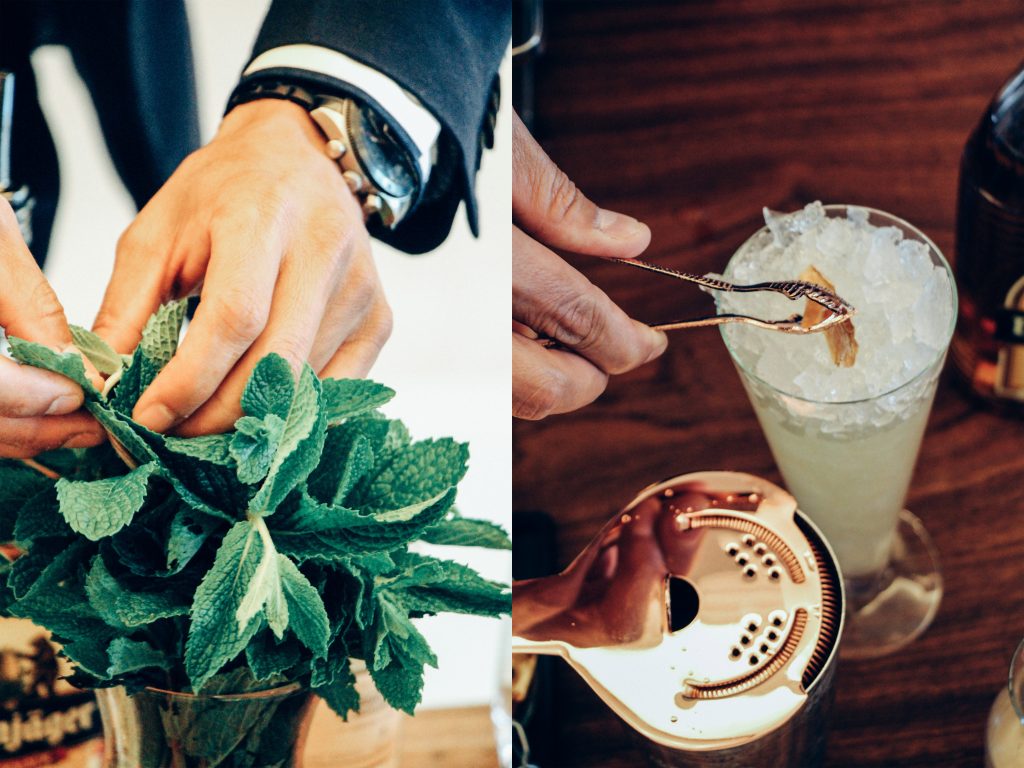 Nothing gets me more excited than a mixology class and while I like to think that I know my way around the bar, my experience is more within the "partaking" department rather than the "creation."
Rafael, general manager of Bull & Bear, guided me through the workshop in making The Bull, The Bear, and The Mule.  The drink has a base of a typical Moscow Mule with an extra kick of St. Augustine Vodka.  Garnished with orange peel and a bit of mint, it was downright fantastic so much that I (embarrassingly) made myself another.
My biggest takeaway other than never being able to enjoy a generic Moscow Mule?  I've been using mint the wrong way my entire life.  Rafael explained that the mint leaf possesses oils within its skin.  To unlock, you place the leaf in your hand and clap down (like an alligator, since we're in Florida).  The difference was significantly noticeable – less leafy and more aromatic.  In Rafael's words, "The drink uses all five senses," and having consumed the entirety of the contents within the glass (twice), I can vouch that his statement was not fictional.
Dinner at Bull & Bear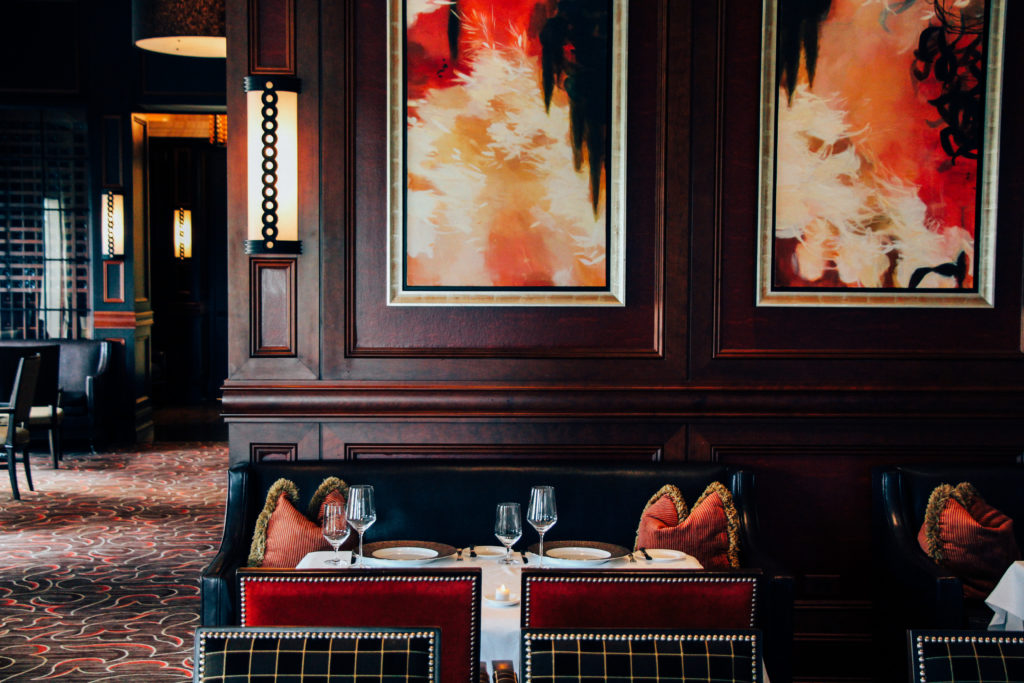 I've had some pretty amazing culinary experiences in my life, but I've never had a double-paired tasting menu.  It's unfortunate that I've indulged in such luxury because I don't believe I'll ever be able to enjoy anything less moving forward.
My meal at Bull & Bear was incredible in every sense of the word.  The sommelier, Tim, walked me through The Taste of Bull & Bear along with the two different collections of wine pairings that they've curated for the menu.   Tim reminded me of one of those (few) cool teachers who you had in high school – the kind who genuinely wants to share what they know and is just so excited at the prospect of teaching someone something new.  From learning about the craft behind the Asparagus Cappuccino to being presented with six different seasoning salts for my meal to tasting the subtle floral notes of a Spanish red, it was an experience that any foodie could get behind.  In retrospect, I'm not sure if it was all the knowledge (or the wine) that made me slip into bed with a heavy head.
The New World Gin & Tonic at Bull & Bear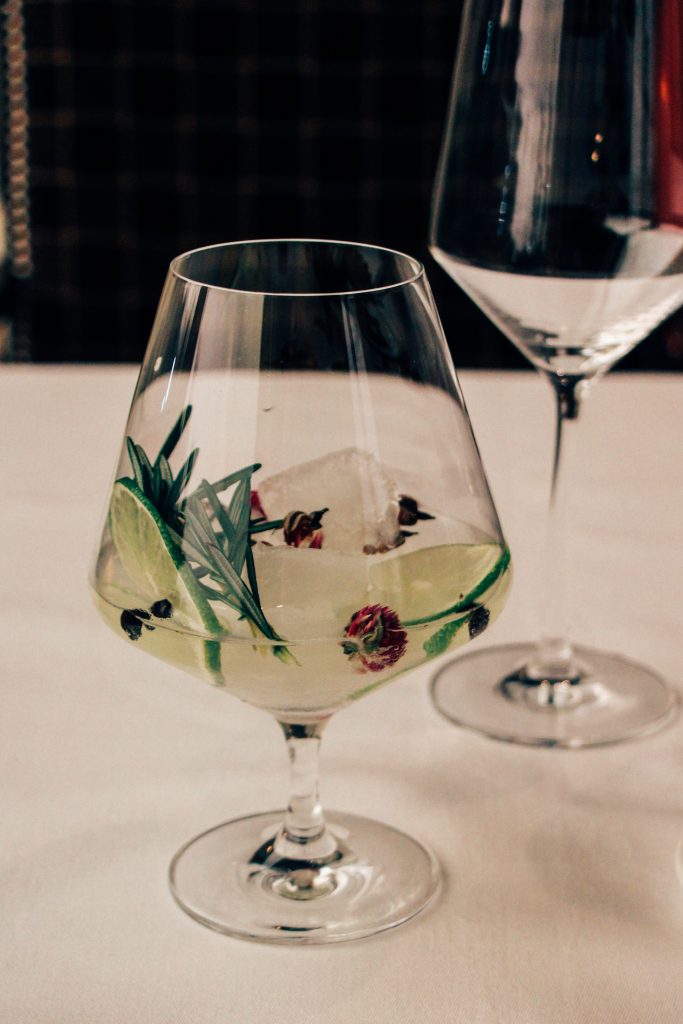 As mentioned earlier, gin is my liquor of choice and I've consumed a fair quantity in my time.  Having the confidence to say that I've experienced it all, the New World Gin & Tonic cocktail by Bull & Bear has set an impossible standard for anyone to beat.
The drink begins with ice cubes that are made out of tonic, accompanied by a generous pour of Monkey 47 gin, and then dressed with a collection of herbal and floral notes that complement the distillation of the gin.  It was a cocktail that continually changed in terms of taste from beginning to end as the tonic slowly melted within the drink.  Whether or not you love gin, it's a cocktail that everyone should experience at least once in their life.
Cabanas by the Pool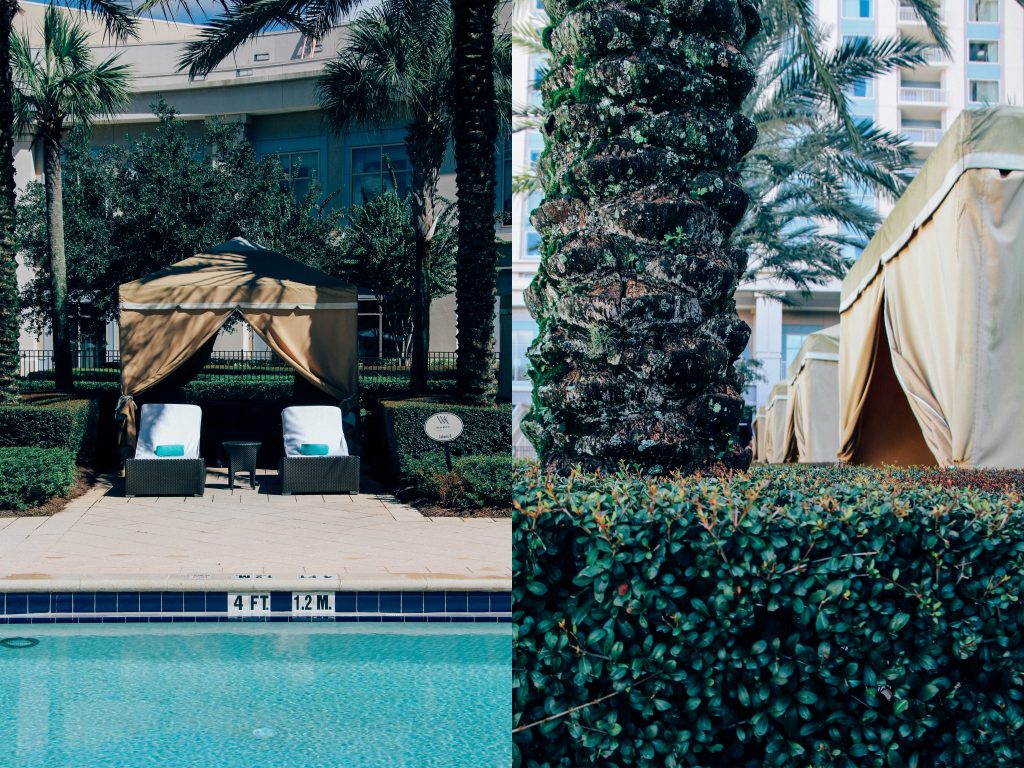 A pool can make or break a hotel.  In this case, it was a make.  Just outside the main entrance sits two expansive pools with comfortable cabanas lining each side of the deck that overlooks the lush golf course.  The cabanas come stocked with towels, pillows, and even a flat-screen TV should the sun become too oppressive.  It was a great way to conclude the day after exploring Winter Park.
Royal Tea at Peacock Alley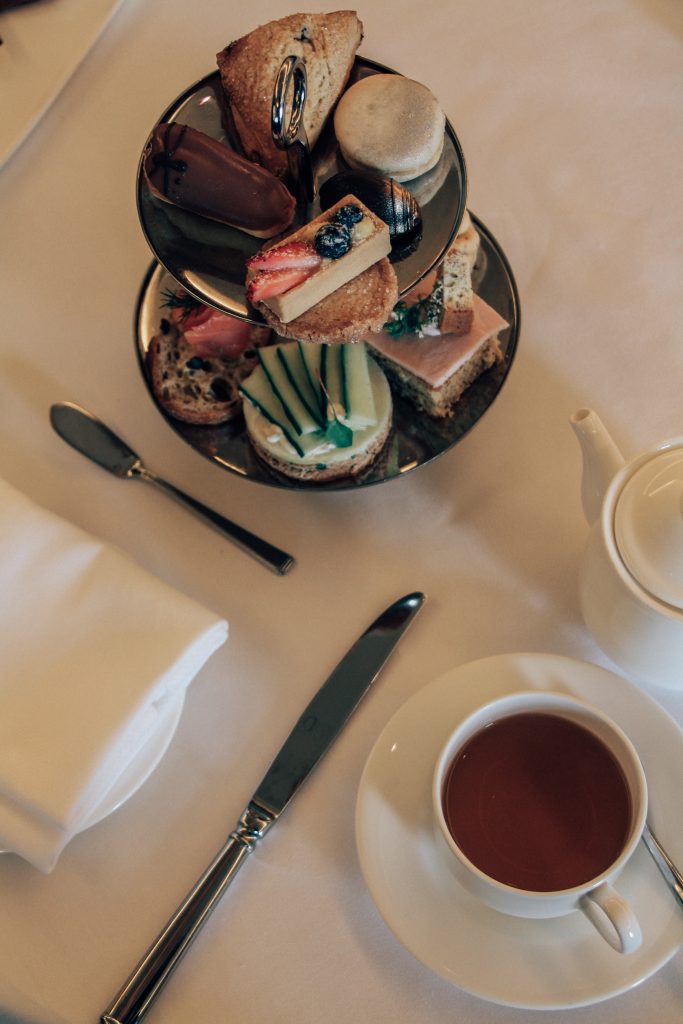 Most departure days involve me scrambling to pack up my bags and then picking up some overpriced sandwich across from my gate at the airport.  This time was (slightly) different.  I experienced Waldorf's Royal Tea service that featured a dozen or so elegant pastries, sandwiches, and hors d'oeuvres that come piled atop a delicate silver tray.  Accompanied by a hot cup of white ginger pear tea and a frigid glass of champagne, it was the perfect way to conclude a flawless weekend at Waldorf Astoria Orlando.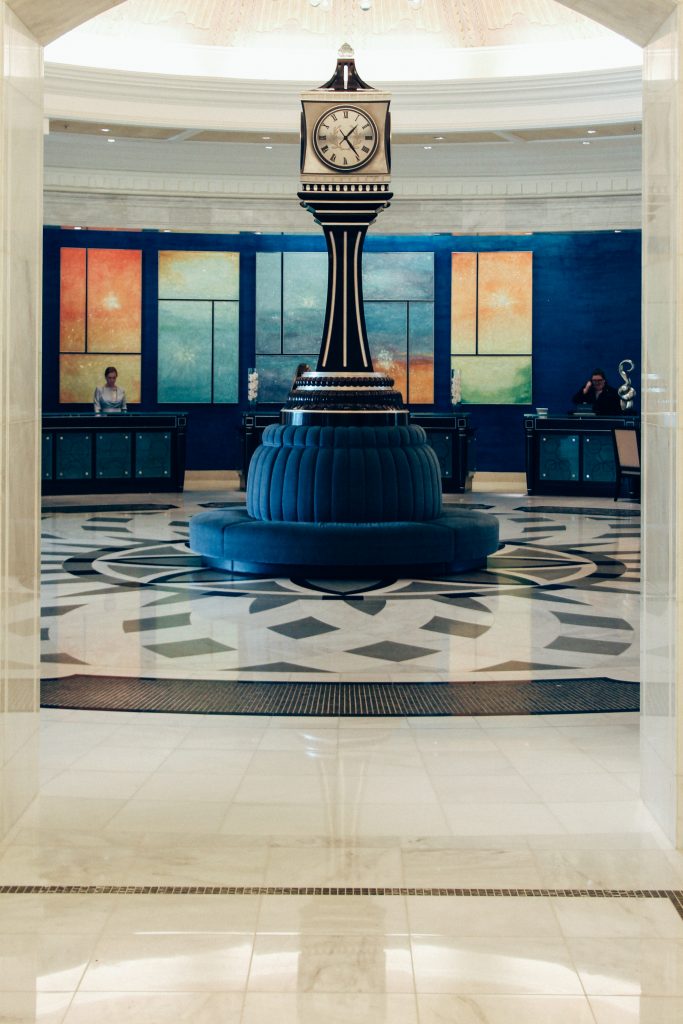 And that was My Waldorf Weekend – not too bad if I have to say.  What were my take-aways?  I would say that there are two:
One: The Waldorf Astoria is a fabulous property, but it's the team that really makes you leave saying, "Wow."  I've been lucky to stay at some amazing places in my time, but the number that provide this kind of service could be counted on my left hand.  For someone who loves food and any kind of educational culinary experience, it was a weekend that featured me saying, "This is so cool," a few hundred times.
Two:  Orlando is not just for kids and families.  Winter Park was incredible, filled with great restaurants, shopping, and museums that are far more Millennial focused than you would ever think.  Had I not taken this trip, I would have never considered going to Orlando as an adult.  Now?  It's somewhere I can't wait to go back to.  See you in 2017 Waldorf Astoria Orlando.
---
Contributor: Dean M. Zacharias
Dean  is the editor and founder of The Dean's List   For the past four years, he has accumulated a sizable following on social media touching on a collection of topics ranging from fashion to food to travel.  He has appeared in publications such as Town & Country and has worked with international brands such Brooks Brothers, Trunk Club, Stubbs & Wootton, Whole Foods, & Land Rover.